Cyrille Tuzi
36 yo, Paris (France)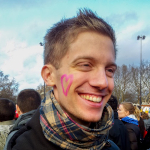 Ionic & Angular trainer, consultant & contributor
Experienced in web development and teaching, I'm open to training and consulting jobs. I'm currently focusing mainly on Ionic and Angular, to which I'm contributing. Author of Schematics Pro.
Skills
Consulting
Training
Code audit
Technical support
Technological choices, R&D
Documentation
Expertise
Technical architecture
Code quality
Developer experience (DX)
Continuous integration (CI)
Code sharing
Professional experience
JavaScript, Ionic & Angular trainer and consultant
For 9 years (2012), as a freelancer
Training: I modernized the JavaScript courses of many training centers in Paris (France), and I am currently in charge of the Angular course at Openska.
Consulting: I help various companies (startup, software editor...) with their Angular and Ionic development.
Open source: I'm an Angular contributor (see below).
PHP & JavaScript trainer
2 years (2010-2012), at Alter Way
PHP trainings, and JavaScript and HTML5 CSS3 trainings author.
Fullstack developer
3 years (2007-2010), at Kinoa
Integration (HTML, CSS, JavaScript) and development (PHP, MySQL) of web sites, project management.
Fullstack developer
For 22 years (1999), self-taught
Full development (HTML, CSS, JavaScript, PHP, MySQL...) of personal and associative websites, self training.
Education
Professional trainings
English & French
I traveled to Japan, the United States, Canada, Costa Rica, Thailand and Europe.
References
As a trainer
More than 1000 students and 230 trainings provided (Angular: 55+, JavaScript: 75+, PHP MySQL: 50+, HTML5 CSS3: 50+).
I was the speaker of a meetup ES6: the new JavaScript.
After having been responsible for JavaScript courses in several of main French training centers, I created my own catalog of JavaScript courses (in French): ES6+, Angular, Ionic, TypeScript, RxJS, Web Components, Stencil, LitElement/Polymer, jQuery...
As a developer
Interests
Meditation & qi gong
Singing & dancing
Biking & swimming